My $300 Kitchen Remodel: The Non-Expert Guide to an Affordable and Loveable Kitchen Renovation!
Welcome to the 4th month in 2020. Can you even believe how long this year has lasted so far!? March, I'm very certain, had 247 days in it. Show of hands, how many of you are on the quarantine bus? How many of you are mastering social distancing and can calculate 6 feet of space just by looking at a person? As inconvenient as this all is right now, isn't it almost surreal to think that EVERYONE in the world has had their life altered in some way by COVID-19? There isn't a single corner of the world it has not reached, either by illness or by news. There's a sort of "unity" to it all that is unlike anything we have experienced in our lifetimes, and I just know there is something incredible happening through all this chaos.
But on to why you're here today — about mid-March, South Dakota started taking extra measures (things take longer to get to us here, it's true) as they closed all schools throughout the state and new protocols quickly took root in all aspects of our bubble here in the Black Hills. Gearing up for who knows how much alone time at home, I thought this would be a great opportunity to add some "Quarantine Equity" to my home – so I chose to PAINT MY KITCHEN CABINETS. For those of you that have done this, you know why I am being so dramatic. For those of you that haven't, read on. You may or may not change your mind by the end of this article.
If you don't know me well, let me introduce myself- I'm a planner, an organized Type-A, a big fan of the "game plan," and a confident decision maker. When I bought my first home in 2018, it had nice updates that I appreciated (new windows, new flooring and trim), but I was never a big fan of my kitchen. So, an affordable remodel of paint and minor decorating was always something I wanted to tackle, but I didn't make the time. Until quarantine. No more excuses. I dove into Pinterest and ultimately landed on this blog from Holland Avenue. I loved the two-tone cabinets and the white on white upper cabinets/walls. I liked her choice to use chalk paint and she had some good pointers. Let's call this my muse. I prepared my supply list and had a pretty good idea of budget. I was set!
Day 1. I headed to a local hardware store for my supplies and went straight for the paint department.
I'm sure the look on my face screamed for the guy at the kiosk to ask, "what can I help you with?" I proceeded to explain my vision and the need for chalk paint, to which he replied (not even kidding) "No body carries that anymore, it was just hype, and no one made any money on it."
Ummm, ok….. now what?! I'm no professional painter, but I had a plan! Ok, I can roll with this, he is the professional… so, I trust him when he sells me on the 'Cabinet, Door & Trim' paint. I mean, it has the word CABINET right there in the title. I bought a gallon in "Chalk White" and a quart in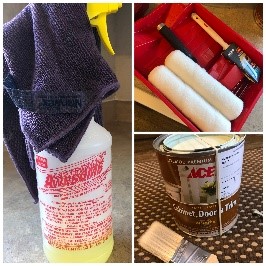 "Moment's Notice"- which turned out to be a gorgeous teal color- and was back on track. I loaded up with a few new brushes, an adorable little mini roller, large rollers for the walls, a paint pan (because what happens to all my painting supplies?!) and headed home. That evening, I did minimal prep and simply cleaned all the cabinet doors and frames with an all-purpose cleaner/degreaser and a Norwex rag. The easiest job, by far!
Day 2. I removed everything from the floors and counter tops,
found a killer playlist on Spotify, and covered my floors with an old rug and some disassembled garbage bags. After a super convincing "you can do this" pep talk, I was ready to tackle the bottom cabinets first. There were less of them and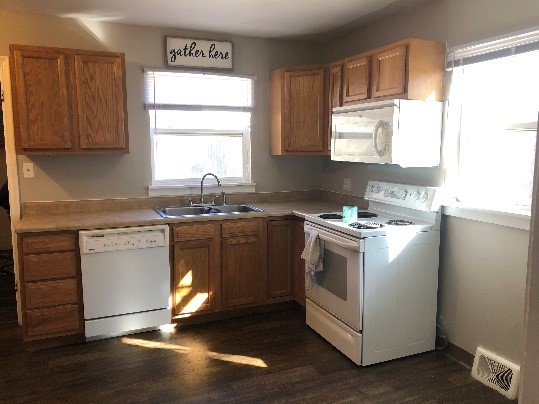 I had to start somewhere….. per the blog, I also chose not to remove my cabinet doors. Let's dub this the "lazy girl" technique. Quite honestly, I looked at my cabinet hinges and they seemed far too complicated for me to remove them AND have to put them back on by myself. I guess my decision was made for me, I was only going to paint the outside of the cabinets as well. I used a combination of a good trim brush and my adorable small roller – removed all of the drawers – and got through the lower half with very little drama. I even had time to give them another coat! I was in love with the color, I only had to clean up a few paint "oopsies" on the inside the doors, I was on cloud 9!
Day 3-4. The day I knew was inevitable from the moment I even started thinking about this project.
I moved to the upper cabinets with the white paint, same as I did the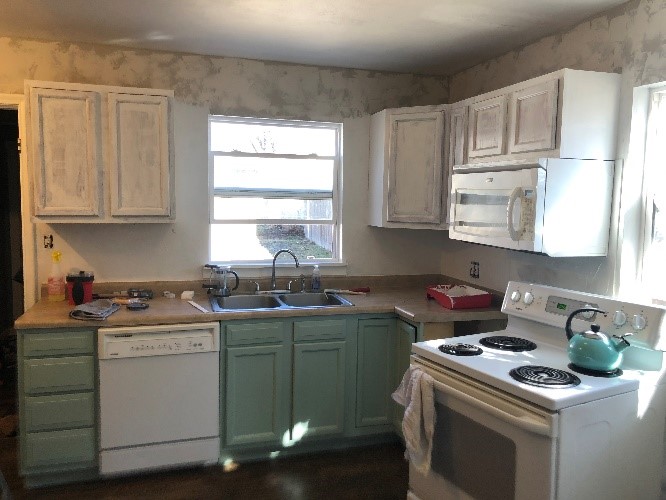 bottom, but the coverage was NOTHING like I experienced the prior day. The white was this awful, milky, see-through, drippy mess and as luck would have it, I had about twice as many cabinets up as I did down… so, you could say my day was starting out well! I had ONE coat applied to all upper cabinets in probably FOUR solid hours. Once I started the second (DREADFUL) coat, I realized there was no way I was getting out of this alive. The coverage was TERRIBLE! And I found dried drip marks that needed to be fixed from the first coat! From the looks of it at this point, this was going to take anywhere from 4-16 coats (two coats pictured). I got through ALL of the upper cabinets with a second coat and some serious complaining, muscle cramping, and reevaluating life choices… when I quit for the day and did my best to get my head right for another day of dealing with this "awesome" decision. The next morning, I gave myself a new "you HAVE to do this" pep talk, grabbed the quart of "Moment's Notice," and went to town on the upper cabinets. Plan? What plan. But guess what!? I'm so happy with my last-minute switch! It was like some sort of magic paint compared to that gallon of white, I only needed one coat of teal on those half-white cabinets and they were PERFECT! I used the same white "cabinet, door & trim" paint to finish my walls (which I'm convinced was just regular wall paint) and I was DONE!
Done. Exhausted. I had a huge mess to clean up, paint on my floor, specks all over my counter. At this point, I didn't want to have anything else to do with my kitchen for 6-8 months minimum. Which was a little tough, since I had set up my home office at my dining room table. But we didn't speak the entire time.
Day 13. Finally, the final touches.

I knew I wanted the finished look to have more of a bohemian twist, I didn't need to add much for color because the cabinets took care of that in the best way! I wanted to add some texture, so I went with a super simple, natural-fiber, braided Jute rug. I LOVE the subtle look and the feel under my bare feet. The size and shape fit well in the space, too.

I threw away my mini blinds when I was prepping. In my opinion, they are ugly and attract so much dust all while being impossible to clean. Instead, I went with some fun tie curtains! It was a nice but subtle pop of color and they are super easy to tie up and down for sunlight and privacy. They are made of a thicker woven cotton and remind me a bit of really thin canvas, so it was another welcoming texture added to the space. AND I found these nifty curtain rods, they take all the guess work out of measuring and drilling – I highly recommend!
I had just one overhead light in my kitchen and it was always a super dim space at night. Maybe that's one of the reasons I didn't really like that room from the beginning now that I think about it! After the painting was complete, I went to Lowe's looking for a light fixture and got lost in the sea of lumières. I couldn't decide! And when I did find something I liked, I had to find the corresponding box which led to the price tag which didn't line up well with my modest budget. So, what did I do? I went home and spent hours finding the just-right light fixture on Amazon, but I did buy the Edison Lightbulbs locally! (Disclaimer: My dad, my handyman-hero, installed this for me. I DO NOT recommend messing with wires if you don't know what you're doing.)
The cabinet knobs may be my favorite find of all! If you've ever dove into the world of cabinet knobs and pulls, you know there is QUITE the variety. And if you pay attention at other people's homes, you will notice that there is a sort of personality that comes with these kitchen knobs. I have looked – over the years – at many hardware stores, Hobby Lobby, antique shops, looking for the just right cabinet attire. So, imagine my surprise when I stumbled across these beauties on Amazon! It was meant to be! They are elegantly simple knobs made of porcelain and each with its own unique design. They were very easy to install (just ask my co-workers husband who came and helped me with it!) and a STEAL for price. I really think they bring the whole room together and add even more character to this charming kitchen remodel.
Final Recap:
Ok, so technically, this was like a 3-4 day -VERY LONG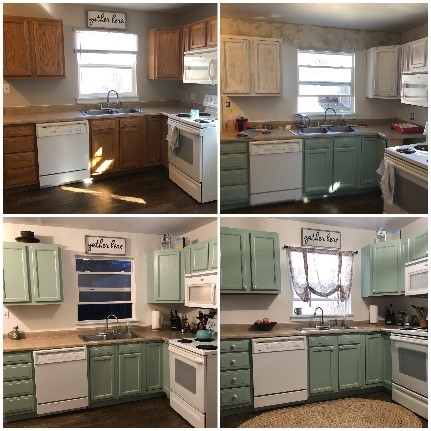 DAYS- total project and when I look at my kitchen now, I will say it was totally worth it. I've talked to others who have taken on this project (most with MORE cabinets than I have, Lord bless them) and they agreed: worst home makeover project, biggest reward.
It's no secret, kitchen remodels can be come with a HEFTY price tag. If you're looking for an affordable way to prepare your home for sale, 'get through' until you have enough money for that dream kitchen, or just want to give your space some new life, I will STILL recommend the cabinet paint method! One thing is, I'm not sure how these will hold up over the years. The semi-gloss so far has wiped down fine for me, but I think if I did it all over again, I would have stuck to the chalk paint/wax combo from the original blog- as I'm very certain this is still sold at stores… I've used chalk paint on old furniture in the past and the combination of thickness and very little prep work is truly something magical and it cures very well with the wax.
Here is my total cost breakdown —
Hardware Store (paint & supplies): $117.00
Jute Rug: $52
Light Fixture: $80
Curtains & Rods: $60
Total money spent: $309
What will YOU do with your extra time at home over the next month or two? Painting can be tedious, but it's an affordable way to transform any room. If you're feeling more ambitions, try experimenting with tile or woodwork! Or get outside and add bushes, rocks, or flowers to your landscaping! We have all been blessed with some extra "at home" time, let's use it to our advantage and add some "Quarantine Equity" this Spring!
If you are considering selling in the next 6 months and would like us to give you advice on small things you can do to your home to get the most out of your sale, please reach out! We would love to help.
Call: 605-646-3336
Email: info@whiteandwhiteteam.com
Written by Holly Glatt, REALTOR®
The White & White Team
www.whiteandwhiteteam.com
Keller Williams Realty Black Hills